Call toll free 877-4ABOLISH
877-422-6547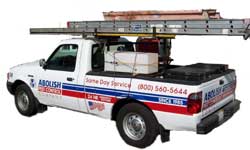 Chatsworth Pest Control
Services Provided:

Rat and Mouse Control/Proofing
Emergency Service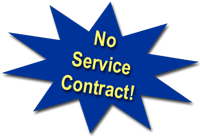 Noises in attic or walls
Odor Control
Dead Animal Removal
Attic Decontamination
Bat, Rat, Mouse & Pigeon feces clean up and removal
Servicing chatsworth and other nearby cities in Killer Bees, Pigeons, Snakes, Crickets, Ants, Earwigs, Rats, Bats, Gophers, Fleas, Mice, Roaches, Silverfish, Black Widows, Ticks, Wasps, Water Beetles, Bees, Sow Bugs, Carpet Beatles, Skunks, Opossum, Raccoons and Yellow Jackets. A Southern California Bird Service company and Chatsworth local pest control company.
-24 Hour-
-Same Day Service-
-7 Days A Week-
-Licensed, Bonded & Insured-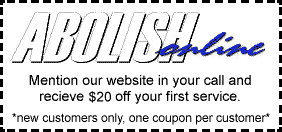 Please print and hand this coupon to a technician
When you call Chatsworth Pest Control, you call professionals.
Call toll free 877-4ABOLISH
877-422-6547

Voted #1 pest control company!



* Pigeon hazard
* Pigeon removal
* Infestation pictures
* Testimonials
Summer is Snake Season
These links will help you get ready.
* Flea tidbit - 1
* Flea tidbit - 2

Killer Bees!
protect yourself.
* Bee tidbit - 1
* Bee removal pictures
Specialists for:
Fleas, Pigeons, Ants, Roaches, Crickets, Earwigs, Bees, Ticks, Silverfish, Wasps, Black Widows, Rats, Mice, Gophers, Carpet Beetles, Water Beetles, Sowbugs

- Senior Discounts
- Industrial
- Commercial
- Residential
- Apartments

- Licensed
- Bonded
- Insured
Agoura
Calabasas
Camarillo
Chatsworth
Moorpark
Northridge
Simi Valley
West Hills
Woodland Hills
Thousand Oaks
---
home | specials | commercial | residential | service area
preparation | pests | feedback | contact us
© Abolish Pest Control Co.,1999 - 2005. Absolutely no rights of distribution by sale or other transfer of ownership or by rental, lease or lending, preparation of derivative works, or reproduction, in whole or in part, is not granted. No text, graphics or photos may be downloaded and used on another Internet site, without express permission of AbolishPestControl. For information on obtaining photo useage and rights, please see our contact page. AbolishPestControl reserves the rights to actively protect against infringement.